The Diocese of Chichester Academy Trust supports the governance model that includes Local Governing Bodies.
The Local Governing Body members are appointed by the Board of Trustees for a term of four years and is made up of parents, staff and foundation representatives.
If you would like to contact the Governors, please email the Clerk, Gaynor Newnham at sjmclerk@sjm.academy or write to Clerk to Governors, St John's Meads Church of England Primary School, Rowsley Road, Eastbourne, East Sussex, BN20 7XS.
FGB Meetings 2022-2023
| | |
| --- | --- |
| Term 1 | Thursday 22nd September |
| Term 2 | Thursday 8th December |
| Term 3 | Thursday 2nd February |
| Term 4 | Thursday 23rd March |
| Term 5 | Thursday 18th May |
| Term 6 | Thursday 13th July |
Clem Jackson
Co-chair of Governors

Having joined the Governing Board in 2017 I can honestly say that the last two years has been a tremendous learning curve for a first-time governor. I have learned so much, especially some of the many 3-letter acronyms which litter the lexicon of education. (more…)
Karen Fletcher-Wright
Co-chair of Governors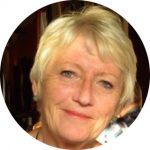 My working life was in Education and Children's Services. In a 40 year career I have been a mainstream school teacher, head of a special school, an SEN Manager and rose to Assistant Director (more…)
Susanne Beesley
Parent Governor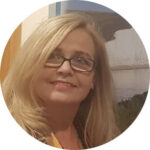 I have spent the majority of my working life involved in different roles and capacities as part of the team around the child to Looked After Children. I am social work trained and my roles have crossed over into the Private and Voluntary Sector, as well as the Local Authority. (more…)
Joan Wilson
Business and Community Governor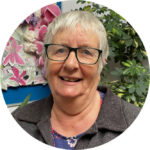 I am a retired Deputy Headteacher. I have a long association with St John's Meads starting when my children started at the school in 1986. During the '90s I organised residential trips to France with my school and St John's Meads for a number of years. (more…)
Katherin Weeks
Headteacher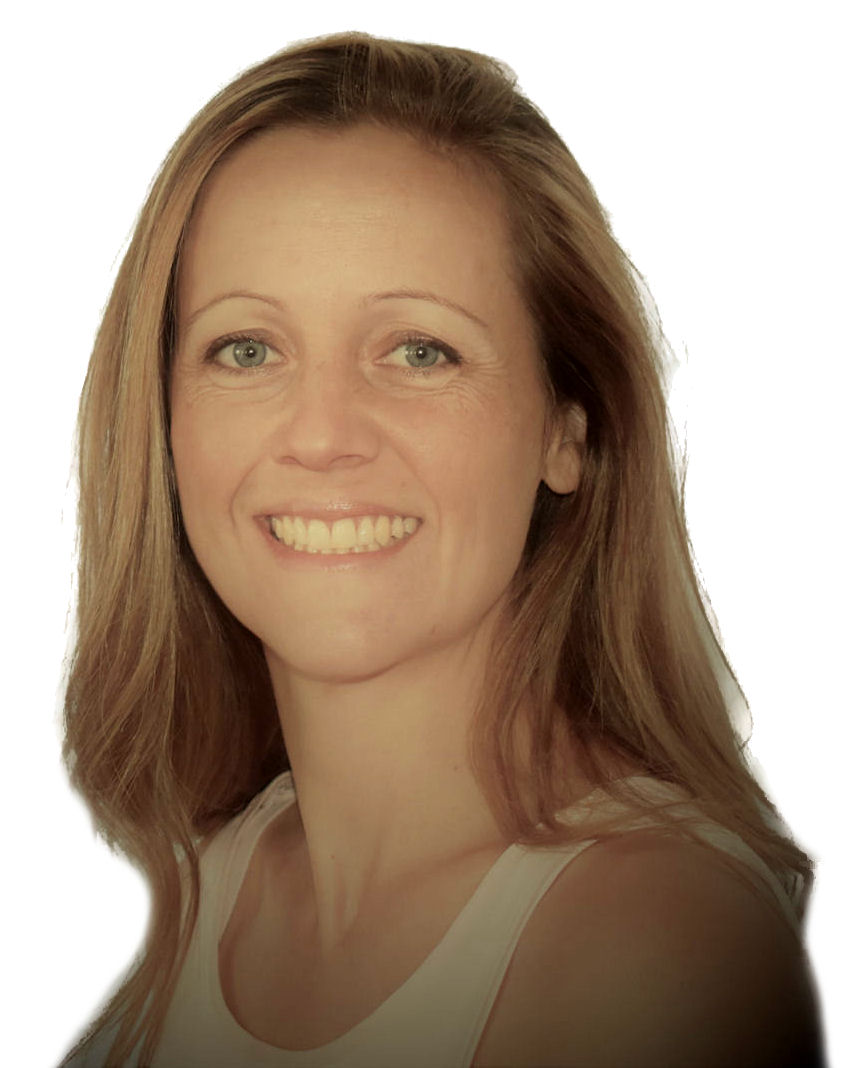 I grew up in North London and moved to Sussex with my family approximately 15 years ago. I have been a parent governor at a school in Bexhill-on-Sea and was a staff governor at my previous school. I enjoy running, reading and crafting.
Jo Barfield
Staff Governor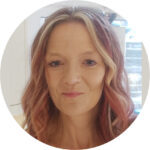 I am excited and privileged to take on the role of Deputy Headteacher and Year 6 teacher as the class move into the final part of their journey through the school. After teaching in London for six years, I moved back to Sussex and feel honoured to have joined the friendly (more…)
George Gibson
School Governor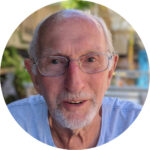 I moved to Eastbourne, from London, in the mid-sixties to take up a teaching post in Willingdon and have worked in the town since then. During that time I have made a number of connections in the town and as a PE teacher I played several sports, including (more…)
Chris Pinch
Community and Business Governor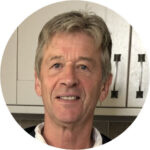 I have lived in Eastbourne for 50 years and I have been a teacher for over 40 years. I was trained at Loughborough and I hold a Certificate of Education, a Batchelor of Arts Degree, a Master's Degree and a Diploma in Sports Psychology. (more…)
What is the role of the Local Governing Body?
The Local Governing Bodies in the Trust's academies operate as local committees of the Body of Trustees. It is the role of the LGB to support and challenge its Headteacher's leadership to work with the Board of Trustees to hold the Headteacher accountable for the performance of staff and pupils.
We are responsible for making the key strategic decisions and our role is to set the school's strategic framework and to ensure all statutory duties are met.
We also ensure that the school has a clear vision for its future, and that a robust strategy in place for achieving that vision.
We are also responsible for monitoring data and finance, admissions, special educational needs, performance management and school policies e.g., health and safety.
This diagram gives an overview of our roles and responsibilities as governors:
Wheel of Governance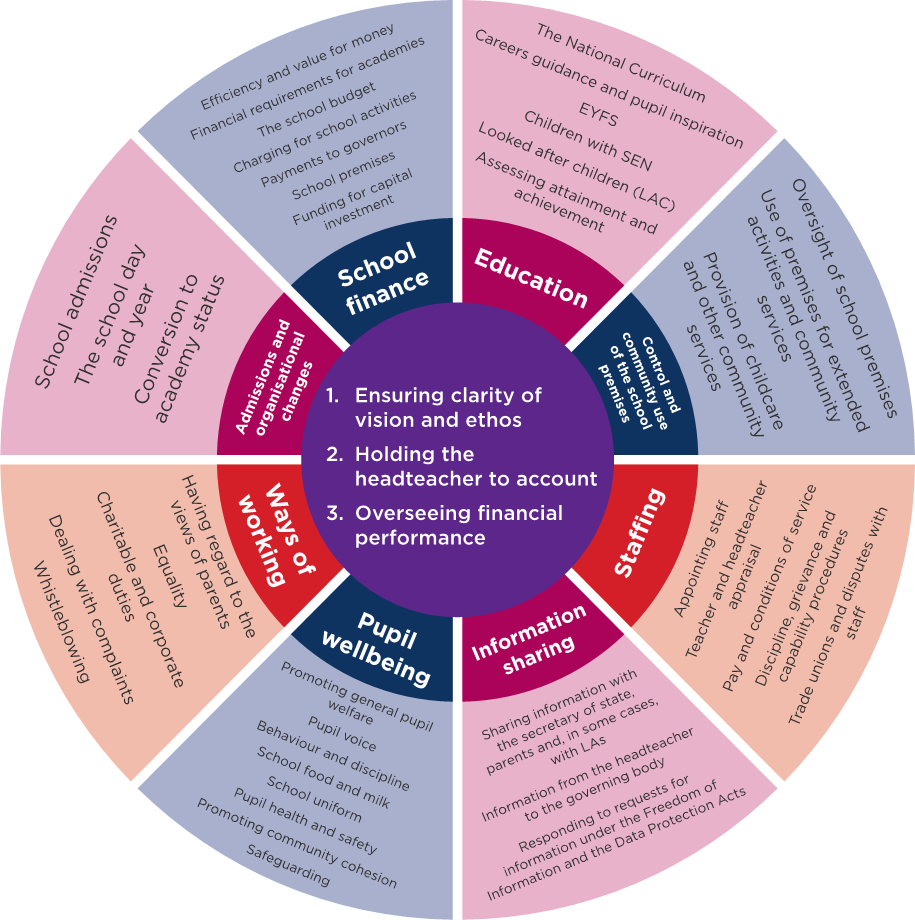 The school governors are a dedicated group of people with a range of skills and experience represented on the Board to ensure that we are fully equipped to serve the best interests of the children. Full Governing Board meetings are held regularly through the year and sub committees meet for Admissions and Ethos.
Register of Interests 2022
Current Governors
Full Name
Role
Term of Office and Date of appointment
Pecuniary Interest
Attendance at GB Meetings 2021-2022
Karen Fletcher-Wright
Community Governor
Co-Chair of Governors
01/02/2020 – 31/01/2024
None
5/6
Katherin Weeks
Headteacher
Ex Officio
None
6/6
Gaynor Newnham
Clerk to Governors
Ex Officio
Clerk to governors at the following schools: Stone Cross, Langney, Shinewater, Parklands Federation, Bourne, Peacehaven Community School, The Eastbourne Academy, The Turing School, Downs Infants, Seaford Head, Hamilton Lodge, STEP Academy Trust
6/6
Clement Jackson
Community Governor
Co-Chair of Governors
01/02/2020 – 31/01/2024
Retired
Trustee of Eastbourne Christian Resource Centre
4/6
George Gibson
Foundation Governor
08/09/2022 – 07/09/2026
None
N/A
Mark Hammond
Foundation Governor
08/09/2022 – 07/09/2026
Headteacher of Bede's Independent School
Joan Wilson
Community Governor
01/12/2021-30/11/2025
None
5/6
Jo Barfield
Local Governor, Staff
20/01/2022- 19/04/2026
Staff Member
1/3
Vacancy
Local Governor, Parent
N/A
Susanne Beesley
Local Governor, Parent
01/12/2020 – 31/11/2024
Chair of East Sussex Foster Care Association, and registered social worker; Foster carer of a pupil at the school
4/5
Christopher Pinch
Community Governor
22/06/2022 – 21/06/2026
Director of CACL Sports and employee of St Andrew's Independent School
1/1
Giles Carpenter
Foundation Governor
Ex Officio
None
N/A
Former Governors (shown for the previous academic year)
Full Name
Role
Term of Office and Date of appointment
Pecuniary Interest
Attendance at GB Meetings 2021-2022
Janice Meyer
Local Governor
Chair of Governors
01/01/2021 – 31/12/2021
Independent education consultant, working for DCAT, Impetus Education and South Downs Educational Consultancy.

Co-chair of governors at Polegate Primary School and a governor at Pioneer Federation. Member of the CEG at St Columba Primary School (DCAT school)

2/6
David Carter
Local Governor, Parent
01/02/2020 – 11/02/2022
Employed by Hastings Direct Insurance, Parent
3/6
Benjamin Sleep
Local Governor
01/02/2020 – 26/05/2022
Curate, St John's Church, Eastbourne
Parent
3/6
Peter Stone
Local Governor
01/02/2020 – 31/08/2022
None
3/6
Daniel Huff
Local Governor, Parent
07/12/2020 – 31/08/2022
Chair of Eastbourne Fisherman's Mission; Parent
5/5